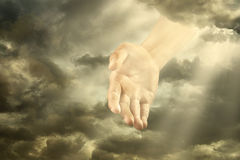 For the eyes of the Lord run to and fro throughout the whole earth, to show Himself strong on behalf of those whose heart is loyal to Him.  2 Chronicles 16:9
There is a common saying among religious folks:  "Seek His face, not His hand."  Another version:  "Seek the Giver, not the gifts."   While this sounds pious and humble, it is not very truthful nor scriptural.  In fact, it can be very condemning to those who are in need of answers and help from the Lord.
Human beings need both!  We want to see Him, His face – to know Him, to love Him.  But, as His children, we also seek His hand, His power in our lives.  Seeking Him and seeking His hand go together!  We not only long for Him to move in power on our behalf, we need Him to act!
Take a look at just a few of the numerous times the bible records David desperate for God's hand to move on his behalf:
Be pleased, O Lord, to deliver me, O Lord, make haste to help me!  Psalm 40:13
Help me, O Lord my God!  Oh, save me according to Your mercy….Let my accusers be clothed with shame, and let them cover themselves with their own disgrace as with a mantle.  Psalm 109:26,29
But You, O Lord, do not be far from me, O my Strength, hasten to help me!  Psalm 22:19
I encourage you to not let false piety be placed upon you by well-meaning yet misguided brothers and sisters.  Don't let them detour you from boldly going before your Father!  Seek Him with confidence that you will see Him and His power in your life!